WWII JEEP GUIDEBOOK:
Buying, Owning and Enjoying your WWII jeep


Over 1000 copies sold to more than 26 different countries!
Willys MB jeep book, Ford GPW jeep book, Willys jeep book, Ford jeep book, WW2 jeep book, WWII jeep book, Ford GPW jeep restoration book, Willys MB jeep restoration book , WWII jeep restoration, WW2 jeep restoration
To order a book, click HERE or see the bottom of this page to learn more
---

This is THE book for the WWII jeep owner/enthusiast!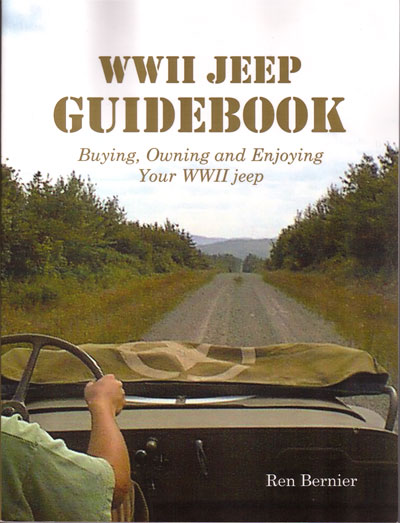 Do you have a WWII jeep?

Are you considering buying a WWII jeep?

Have you ever driven a WWII jeep?

This book has what you want to know, and what you need to know. Written by Ren Bernier and based on his thirty years of experience with vintage jeeps, this book answers your questions about finding, evaluating, owning, driving and enjoying one of the most historically significant vehicles ever made.


•What can I do with my WWII jeep?

•How can I transport my jeep safely?

•How much does a restored jeep cost?

•How do I get into parades and car shows?

•How should I store my jeep?

•What is the truth about insuring my jeep?

•What should I look for when buying a WWII jeep?

•Is it better to buy a restored jeep or restore it myself?

•What the heck is "N.O.S.", a "combat wheel" or a "filterette"?

•Much, much, more...
Ren Bernier is a WWII jeep restorer and hobbyist. He has been writing about vintage jeeps in magazines, newsletters and newspapers for over ten years. His restored jeeps have been displayed at the national level and have placed first in MVPA judging in addition to being displayed and purchased by museums. He drives his jeeps through the woods and on city streets, in parades, in snow and in mud. Ren has real fun with the jeep hobby and you can, too!

WWII JEEP GUIDEBOOK: Buying, Owning, and Enjoying Your WWII jeep is 113 pages with over 100 photographs and illustrations, softbound 8.5" X 11" and sells for $24.95 plus postage.



Copies are also available from these preferred vendors:
Ron Fitzpatrick Jeep Parts
http://www.g503.com/parts/
(866) 812-4272
MilitaryVehicle Preservation Association
http://www.mvpa.org
(800) 365-5798
Pete deBella Jeep Parts
http://www.debellajeepparts.com/
(631) 874-8660
Army Jeep Parts
http://www.armyjeepparts.com/
(215) 788-6012
---

Be sure to visit ...
Ren's jeep restoration site
an information resource for WWII jeep restorers, owners and enthusiasts